The cottage " Villa Augusto" with all the rooms at ground level is located in one of the park's corners. Generously decorated with antique furniture and antique prints it on the other hand offers all the amenities of modern life The cottage is equipped with an independent central heating system and it has a fireplace. It has television and washing machine. For outdoor living tables, chairs and recliners will be provided. A special feature is a spacious pergola with barbecue facility, -a perfect spot for relaxing and romantic dinner.
Pergola with barbecue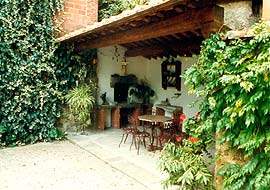 Ideally the cottage sleeps four with the option of adding one bed. It consist of a large live-in-kitchen with fire place, one bedroom with one double bed, bed-room with two twin size beds and a bathroom with bathtub and showerhead.