In a quiet and exclusive area, in the hamlet of S.Marco in Villa at the slopes of the hill where the country town of Cortona lies, you find the Villa Bietolini a grand mansion of the 18th century with a large park with swimming pool and tennis court.
According to an inscription in stone the villa was constructed in 1773 by the Don Giuseppe Maria e Michelangelo Manciati Del Conte Brothers, who owned a major part of the surrounding land of the village.
Later it was acquired by the aristocratic family of Marchesi Bourbon of Petrella who were descendents of Borboni of Spain and who sold it at a later stage to the current owners.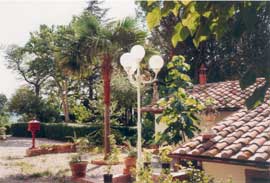 As is true for most of the villas of Cortona its architecture is strongly linear and parallelepiped.
In the villa's small changed besides further frescoes, -simple but charming-, a tiny piece of the wooden cross of Jesus Christ is being preserved in a silver shrine, its authenticity certified by the pope's seal.
The owner of the accomodations to be rented, - himself a poet specializing in humour and satire owns a library of more than 5000 books; pamphlets and magazines featuring humour and satire.

External view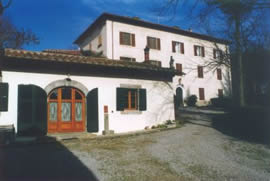 The heraldic coat of arms of the family Bourbon of Petrella stands out above the front door.
In many parts of the villas interior the original decoration, frescoes and furnishing can still be admired. One of drawing rooms has a significant collection of antic prints presenting Cortona from 1507 up until the end of the 19th century as well as Cortona 's Saint Margherita, of whom also several relics are being kept.

Swimming pool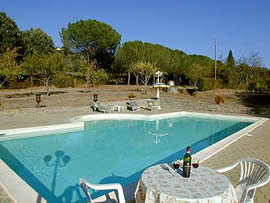 The villa's extensive park is rich in variety of trees and ornamental plants like lindens, evergreen oaks, lavrels, acacias, pines etc..
Following are being offered for rent:
Villa Augusto, Villa Rolando.