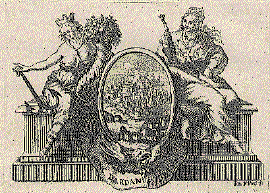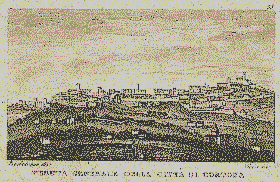 Incision in copper taken from:
Summary of pictorial journey of Tuscany, Florence , Printed by Gasparo Ricci Stampatore e Librajo da S. Trinita, 1823
Volume second. Figure n. 56 :
General view of Cortona. (119x68)
(engraver: Verico)

Situated in a central location with all the major cities (Firenze, Siena, Arezzo, Perugia, Assisi, Orvieto, Roma) and small towns of architectural and historical interest (like San Gimignano, Montepulciano, San Sepolcro, Gubbio, Spello, Foligno , ecc.)of central Italy in easy reach by car (major roads like strada statale 71 Autostrada del Sole) and by train ( direct connection to Milan, Florence and Rome ) Cortona lies 650m above sea level.
Being of Etruscan origin we can still admire today the historical remains of the pre-roman period. Cortona satisfied the expectation of the most demanding visitors with its wealth of art and history. Enjoying a temperate climate most of the year and being in a panoramic position Cortona dominates the Val di Chiana and the trasiminian lake. The possibilities of visit to monuments of medieval and renaissance origin are numerous and interesting. It is worth seeing the museum and churches rich in artwork. There is an active social life with frequent folcloristic, gastronomic and cultural events.