Villa Augusto is in a central location in terms of allthe towns of cultural interest in Toscana and Umbria

Distances :
Firenze Km 90
Roma Km 195
Perugia Km 45
Arezzo Km 25
Siena Km 70
Sansepolcro
Km 50
Montepulciano Km 30
S.Gimignano
Km 90
Assisi Km 65
Pisa Km 160

Airports:
How to find Villa Augusto:
We advice you to call us (057562254 or 3392605630)once you arrived in Camucia or in Cortona.We will come to you and accompaing you to our home.(It would be best to go to the train station Camucia/Cortona and to call us from there).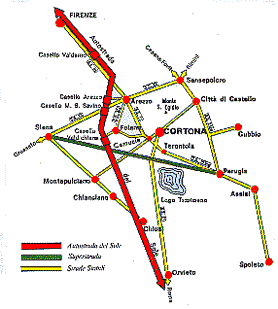 Going by train to Cortona :
Direct connection from Milan-Bologna-Florence-Rome
to the train station TERONTOLA-CORTONA ( from Rome km.194 - from Florence Km.122)
or the train station CAMUCIA-CORTONA
Intercity and express train generally stop in Terontola, 11 km from Cortona An additional option is to come to the station of Camucia-Cortona.
Going by car to Cortona :
Autostrada del Sole Exit Valdichiana.
After the toll booth enter the superstrada Siena- Perugia direction Perugia; there are three exits for Cortona: first CORTONA-Via Manzano, second CORTONA - Via Lauretana, third CORTONA - Via S.S. 71
Strada Statale 71
In Camucia take the, detour direction Cortona and Cittą di Castello (Strada provinciale Umbro-Cortonese)